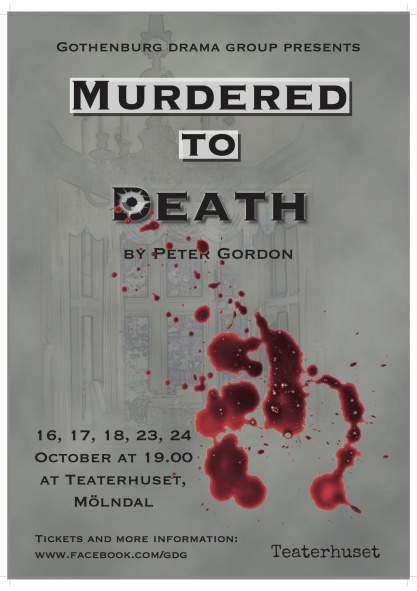 Book your tickets in the form below
The tickets will be paid for upon arrival to Teaterhuset before the show.
Gothenburg Drama Group is proud to present Peter Gordons Murdered to Death.
This hilarious spoof of the best Agatha Christie traditions, with an assembled cast of characters we've all seen before in a slightly different light: Bunting the butler, an English Colonel with the necessary combat experience, a shady French art dealer, a clumsy inspector and a somewhat confused local sleuth who seems to attract murder - they're all here, and all caught up in the series of quite unfortunate events which follow the mysterious death of the owner of a country manor house. But will the murderer be unmasked before everyone else has met their doom, or will audiences die laughing first?

The show has two acts á 60 minutes plus a 20 minute intermission.
Tickets: 100 Kronor

Fika will of course be served in the intermission!!

If you have any questions around the shows pls contact us at: gothenburgdrama@gmail.com.

See you soon!

We follow the Authorities recommendations when it comes to COVID-19 measures and request that you refrain from coming to the venue if you are experiencing even mild symptoms. In case of need to cancel reserved tickets due to sickness pls. contact us on: gothenburgdrama@gmail.com.

We will also have a maximum of 50 people in the audience per show and since the space for the venue has a capacity of 150 people we will be able to maintain a convenient social distance.